Nel cuore della Toscana: immerso nella campagna del Montalbano, lontano dai centri, per godere di sole, relax e tranquillità, passeggiate e attività sportive;
Vinci, la città natale del grande genio Leonardo è a soli 15 minuti;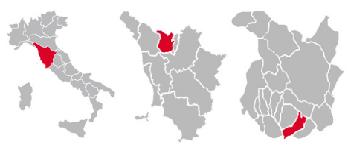 guarda dove si trova la nostra struttura
Il pernottamento con colazione inclusa (Bed & Breakfast) è molto economico, per esempio a luglio e agosto, il pernottamento in camera doppia (2 adulti) costa solo 70 euro;
Bambini da 0 a 4 anni: gratis;
Bambini 5-12 anni: 50 % di SCONTO rispetto a un adulto in camera doppia;
E' possibile richiedere anche il trattamento di mezza pensione o di pensione completa;
Ci sono solo 3 camere, 1 tripla e 2 doppie, nuovissime, con bagno e aria condizionata; in ognuna di esse è possibile sempre aggiungere 1 o 2 letti in più per i bambini;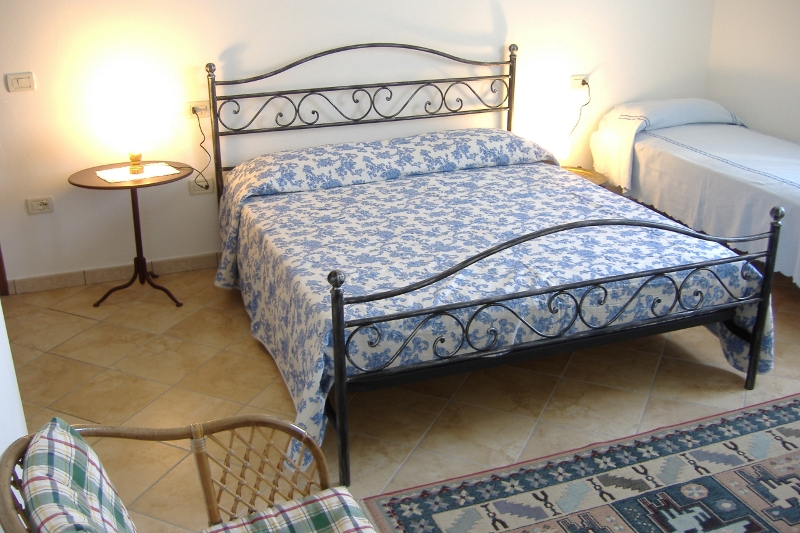 La colazione è a base di prodotti genuini, curata dalla proprietaria Silvana;
Cibo altamente genuino, si rispetta la stagionalità dei prodotti della terra e dell'allevamento;
La cucina è quella tipica toscana.
La struttura è gestita direttamente dalla famiglia Calistri;
E' possibile prenotare pranzi e cene.

In the hearth of Tuscany: this location is very relaxing and romantic, with a beautiful panorama of the plains. Within minutes you can reach the art cities of Tuscany and the beaches of Versilia while still enjoying a genuine experience the way we live every day;
The great genius Leonardo da Vinci was born here on Montalbano, his birthplace and museum are a breathtakingly beautiful 15 minutes drive;
Overnight (always with breakfast included) is very cheap, for instance, in July and August, (high season) a double room with breakfast (2 adults) costs only 70 euro;
Kids under 4 stay free;
Kids 5-12 (years old) : 50 % DISCOUNT respect adult in double room;
Also you can ask for half board (night + breakfast + dinner or lunch) and for full board (night + breakfast + lunch + dinner)
Podere Calistri offers 3 bedrooms complete with bathroom, all brand new, very neat, clean and comfortable; all rooms have either a window or a balcony;
Breakfast is very good, handmade with genuine products, prepared with pride by the owner's wife;
Food is genuine and we use what we grow here at our farm, or, if necessary, from nearby farms; we respect the seasonality of all products;
The specialties are part of the typical Tuscan cuisine.
The farm is managed directly by the owners:Antenore, Silvana and their family who welcome you;
It is possible to book lunch and dinner.

Agriturismo
Podere Calistri
--------------

Menu di Natale 2016
Prosciutto, crostini toscani, pecorino e
crostino di polenta con funghi
Cannelloni con ricotta e spinaci
Pennette ai funghi porcini
Rollè di tacchino ripieno e patate al forno
Tagliata di vitello e insalata
dolce della tradizione, spumante, caffè
acqua e vino della casa
32 euro
Bambini fino a 2 anni: gratis
Bambini da 3 a 10 anni: metà prezzo
Appuntamento alle ore 13 di domenica
25 dicembre
E' necessaria la prenotazione
Tel. 0573 88154 ? cell. 3471779223 (Silvana)
--------
cena di S.Silvestro
Affettati e crostini misti
Voulevant con crema di champignon
Penne alla boscaiola
Gnocchi su vellutata di zucca, formaggi e
speck
Anatra all'arancia con patate al
rosmarino
Vitello arrosto, lenticchie
Dolce, spumante, uva del buon augurio,
caffè,
acqua e vino della casa
32 euro
Bambini fino a 2 anni: gratis
Bambini da 3 a 10 anni: metà prezzo
Buon 2017 e
Buone feste !!
E' NECESSARIA LA PRENOTAZIONE
Tel. 0573 88154 ? cell. 3471779223 (Silvana)
Appuntamento intorno alle ore 20,30
visite -
guests