Da Silvana si possono gustare le specialità della zona e toscane in genere; sono preparate usando cibi genuini e biologici; si usano i prodotti agricoli dell'azienda, o, se necessario, di aziende agricole vicine; si rispetta la stagionalità dei prodotti.
I piatti più richiesti sono quelli a base di cacciagione (cinghiale, fagiano), le tagliate, le carni cotte al forno o fritte (anatre, polli, conigli, maiale, vitello), la pasta artigianale; tutti i piatti sono arricchiti da funghi, verdure (grigliate, fritte, o al forno), patate e legumi.
----------------------
Mrs. Silvana cooks breakfast for guests every morning. By prenotation, it is possible to have lunch or dinner, tasting a lot of Tuscany cousine specialities; she uses farm products (olive oil, wine, tomatoes, potatoes, and other vegetables) or if it is necessary, she uses products of other farms near the our one.
The most requested dishes are those based on game (wild boar, pheasant), the cut, the meat baked or fried (ducks, chickens, rabbits, pork, veal), the handmade pasta. All the dishes are enhanced with mushrooms, vegetables (grilled, fried or baked)) and potatoes.
La cuoca Silvana - chef Silvana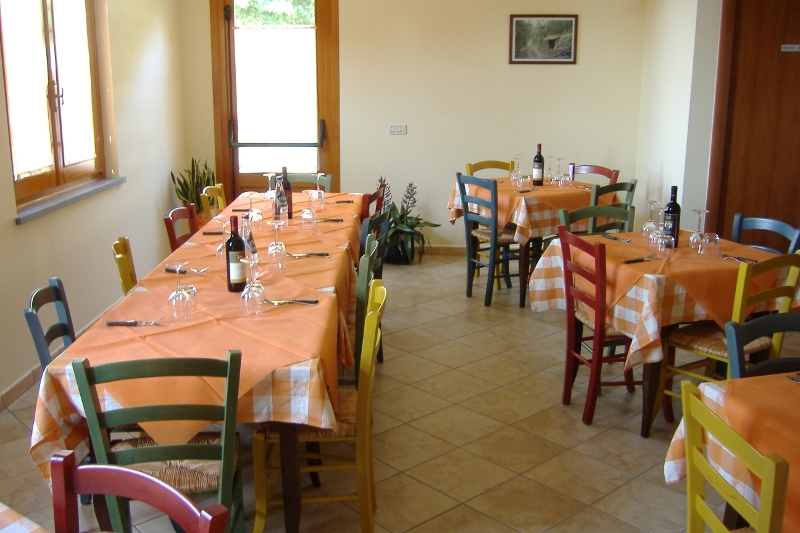 Sala - Dining room

***********

Prezzi ristorazione - Restourant Prices

Prosciutto e melone (Ham and melon) 6,00 euro

Bruschette al pomodoro (Tomato crouton) 3,00 euro

Formaggi misti ( Cheeses ) 6,00 euro

Antipasto toscano ( Tuscan appetizer: ham, salame, crouton ) 6,00 euro




PRIMI PIATTI (FIRST COURSE)

PRIMO PIATTO A SCELTA PER BAMBINI ( FIRST COURSE FOR KIDS) : 4,00 euro

Tagliatelle ai funghi porcini ( tagliatelle with porcino mushroom ) 8,00 euro

Pasta fresca al sugo di cinghiale ( Homemade pasta with wild pig sauce) 8,00 euro

Panserotti mozzarella e prosciutto (Crepes with tomato, mozzarella and ham) 8,00 euro

Spaghetti al ragù ( Spaghetti with meat sauce) 7,00 euro

Spaghetti al pomodoro ( Spaghetti

with tomato sauce )

6,00 euro

Risotto zucchine ( Rice with zucchini ) 7,00 euro

Gnocchi al pesto( Gnocchi with pesto) 7,00 euro

Gnocchi al pomodoro ( Gnocchi with tomato sauce ) 6,00 euro

Lasagne , su prenotazione (Lasagne , on booking) 8,00 euro




SECONDI PIATTI (SECOND COURSE)

Cinghiale in umido con olive ( wild pig with olive oil, tomatoes, olives) 9,00 euro

Pollo arrosto , su prenotazione ( Chicken roast, on booking ) 7,50 euro

Bistecca di vitello, prezzo per 100 g Beef steak, price per 100 g) 3,00 euro

Bistecca di maiale (Pork steak) 6,00 euro

Svizzerina e patatine fritte (Hamburger and fried potatoes) 7,00 euro

Insalata mista (Mixed salad) 2,00 euro

Patate fritte (Fried potatoes) 3,00 euro

Vino Rosso Toscano della casa

(Red wine of podere) 0,75 L

7,00 euro

Acqua (water) 0,75 L 1,00 euro

Bibite in bottiglia (Coke,

Fanta, Sprite, Beer) 0,33 L

1,50 euro

Bibite in lattina (Coke,

Fanta, Sprite, Beer) 0,5 L 2 ,00 euro

Dolce d. casa (Home made cake) 3,00 euro

Caffè (Coffee) 1,00 euro

Coperto (Cover charge) 1 ,50 euro




Bambini fino a 2 anni: gratis - Kids 0-2 years old: free




*****************


Prezzi di olio e vino - olive oil and wine prices

OLIO - OLIVE OIL

BOTTIGLIA 0.50 L 7 euro

BOTTIGLIA 1 L 13 euro

FIASCHETTA 5 L 50 euro

VINO - WINE

BOTTIGLIA 0.75 L 5 euro

PACCO 6 BOTT. 0.75 L 27 euro